善如书画作品已成为书画界新宠 香港书画报 美国新报 香港视觉艺术等刊物频频亮相


ANDY Wong's works have become the new favourite in calligraphy and painting

画界新周刊

书画家兼企业家善如(王晓燕)书画作品已成为画界新宠,其作品在海外刊物《美国新报》《香港书画报》香港《视觉艺术》频频亮相

美国新报消息:2017年9月8日美国新报刊登了王晓燕(善如)三幅名为"韵"系列的舞蹈人物画,这三幅作品巧妙融入了太极元素,流露出了作者对动与静的深刻理解,可以说此"韵"系列作品是善如(王晓燕)书画作品继亚细亚艺术大奖后又一次质的升华。
香港书画报消息:2017年6月25日香港书画报报道:香港会展中心四百位两岸四地知名画家一起参加"中华颂中国书法交响音乐会"庆贺香港回归20周年。同日香港书画报大幅版面报道:王晓燕亚细亚书画展获奖组图以及其获奖作品。
香港《视觉艺术》季刊:2016年香港视觉艺术第67期有专题推出多幅善如水墨画作品
不仅如此善如常与海外各界知名画家、编辑进行广泛的交流切磋
The painter ANDY WONG's works has become the most popular painting works, her works in overseas publications "American news" "Hongkong pictorial book" Hongkong "visual arts" has been published
The United States newspaper news: in September 8, 2017 the United States newspaper published the ANDY Wong three picture titled "Yun" series of dance figure painting, the three paintings subtly into the elements of Tai Chi, expresses his deep understanding of dynamic and static, it can be said that this "Yun" series of works of ANDY Wong calligraphy and painting after another Asian Art Awards qualitative sublimation.
Hongkong pictorial news: June 25, 2017, in Hongkong Convention and Exhibition Center, four hundred famous artists across the four sides participated in the "Chinese song Chinese calligraphy symphony concert" to celebrate the return of Hongkong 20th anniversary. On this day, Hongkong Book pictorial published a large print of ANDY Wong's award-winning picture in Asia book show and its award-winning works
Hongkong visual arts quarterly: the sixty-seventh stage of Hongkong Visual Arts in 2016 featured a number of ANDY Wong ink paintings
Not only that,ANDY Wong often with overseas well-known painters and editors extensive exchanges and cutting

善如书画作品已成为画界的新宠: 2017年9月8日《美国新报》刊登王晓燕(善如)三幅名为"韵"系列的舞蹈人物画
In September 8, 2017 the United States "Daily News" published three pieces of Title ANDY Wong called "Yun" series of dance figure painting
《香港书画报》整版报道:王晓燕亚细亚书画展获奖图组以及其获奖作品 《香港视觉艺术》第67期有专题推出多幅善如水墨画作品
"Hongkong" magazine published a full page in the book of ANDY Wong painting and calligraphy exhibition in Asia Award winning works of the group and
The sixty-seventh stage of Visual Arts in Hongkong features a number of paintings by ANDY wong
善如应邀到中国书协香港分会副主席《香港书画报》总编范淳奇先生画室"善斋"做客 《香港视觉艺术》总编辑徐傳鑫来访善如画室兰竹轩
ANDY Wong was invited by the vice chairman of the Hongkong branch of Hongkong Calligraphers Association "Chinese Book pictorial" editor in chief Chunqi Mr. Fan studio "good guest room" Hongkong "visual arts" editor Xu Chuanxin visits ANDY Wong 's studio "Zhuxuan lan"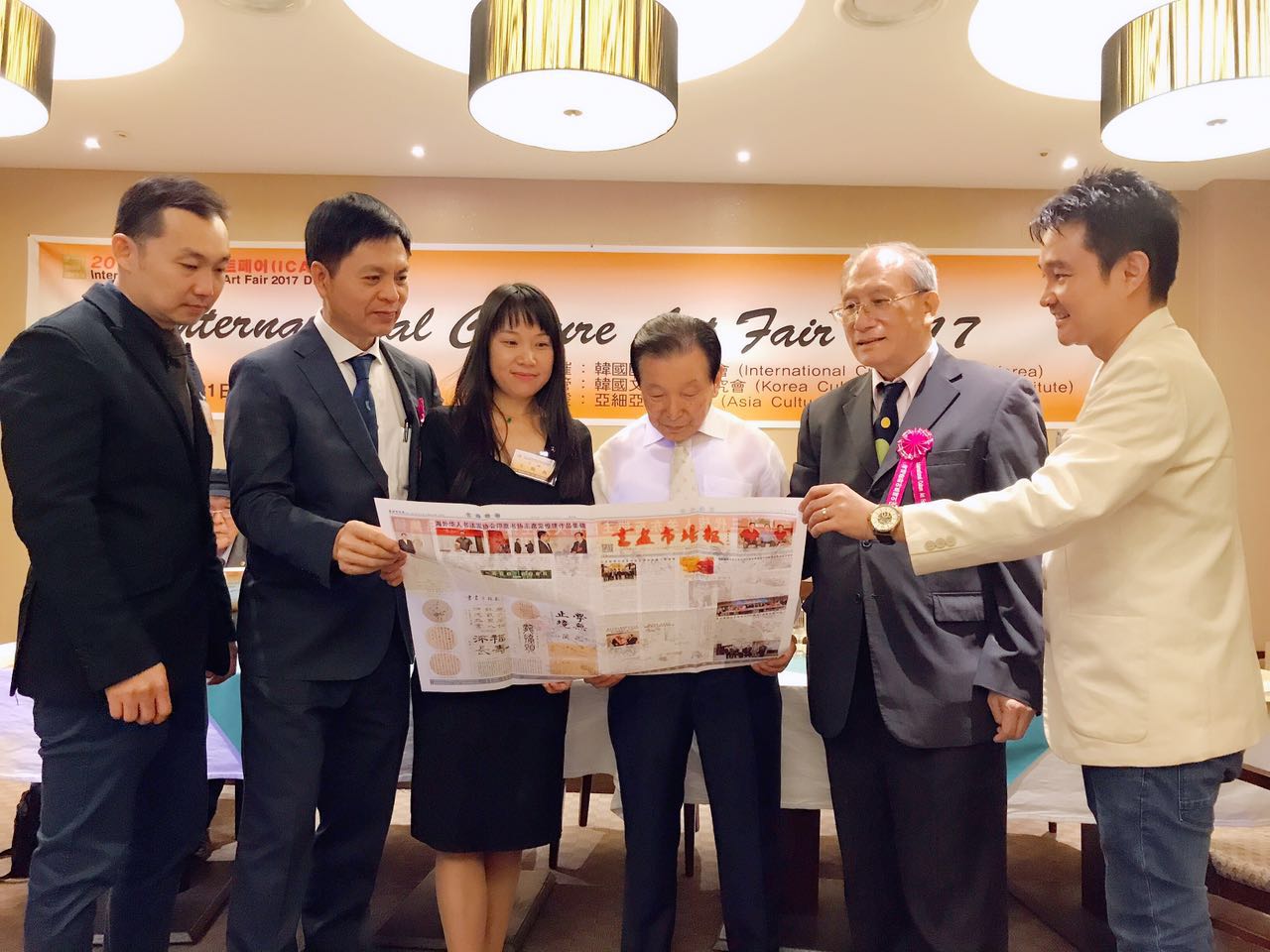 善如与各国名家参研学习:左一马来西亚油画家张世伟,左二新加坡著名画家范少华,左三善如,右一马来西亚画家叶福源,右二台湾著名艺术家蔡丰名,右三韩国国际文化協会姜信雄会长
ANDY Wong and other famous artists together to study: left 1 Malaysia painter Zhang Shiwei, left 2 Singapore famous painter Fan Shaohua, left 3 as good, 1 right Malaysia painter Ye Fuyuan, right 2 Taiwan famous artist Cai Feng, President of the Korea International Culture Association Jiang Xinxiong right 3




伙伴链接
云跨界联盟 百科360 MBAIDU 搜狗 必应bing so靠谱 在线翻译 百度 百度百科 好搜 谷歌 云跨界园地

返回健康网跨界云目录页 去看看健康网站首页

返回